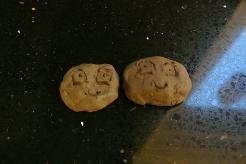 My relationship with clay...
I have enjoyed playing with clay since 2013 and have learnt a range of hand building and throwing techniques from local potters. Some of the pots I've produced are 'good-enough' finished articles, but more importantly, I've learnt for myself the therapeutic benefits of handling clay.
The 2 – 3 hours a week I spend in the pottery provides a time for me to switch off my left-brain activity, unwind, and enjoy. When I produce something at the end of it, all well and good, but when I don't, I still benefit enormously from the process of touching, squeezing, throwing and manipulating soft clay. This is what sparked my interest in learning more about using clay therapeutically in my work with young people.
Clay and psychotherapy...
I can draw many analogies between working with clay and the practice of psychotherapy.
Both are creative tasks that facilitate imagination and playfulness

Both depend on learned techniques, but intuition and exploration are much more valuable

Both are quiet, contemplative practices than facilitate daydreaming and the flow of unconscious thought

Both can be challenging and frustrating with multiple false starts!

But most importantly, whether working with clay or engaging in psychotherapy it's the

process

that matters most
Clay therapy: always
a work in process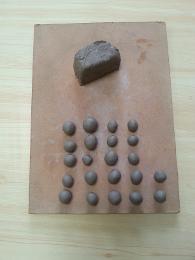 The potential of clay in
therapy...
Manipulating clay can have monumental effects:

It can bring into conscious awareness that which has been unconscious

It can activate forgotten (or repressed) childhood memories

It can provoke feelings of anger, sadness and loss which can be thought about in a safe way

It can be used to express preverbal and more recent experiences that cannot be put into words

It can allow for messy exploration within a safe and contained space

It can provide a medium for safe touch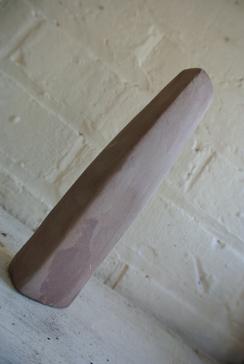 The effects of clay therapy can be monumental
Offering clay therapy...
It is a privilege to offer Clay Therapy to my clients within the safe space of the therapy room.
Natural clay is available as an additional resource alongside other art materials, games and music. Clients can choose to work with clay instead of or as well as engaging in talking therapy and can dip in and out of working with clay as with all other resources available in the room.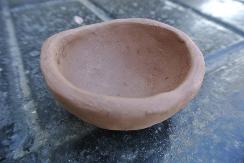 Clay therapy: container,
contained, containing
Working with clay in therapy...
Items created with clay during therapy will be kept safe, confidential and in a workable state between sessions. They can be photographed by the therapist during the session and photographs kept in the client's folder until therapy ends. Clay changes as it dries; it shrinks and changes colour, so these photographs can provide a valuable reminder about what the clay creation looked like when it was first made.
Clients choose what to do with their creations (and photographs of their creations) in between sessions and when therapy ends. They may destroy them, leave them behind or take them away with them.
Clay is locally sourced grey earthenware that does not stain the skin or clothes. Items created will gradually dry out and harden but as they are not fired in a kiln they will never be water or weather proof and will eventually disintegrate over time.
If you have any questions about the use of clay in therapy, please use the contact Sea Psychotherapy link in the menu bar.
Jeanine Connor © 2016