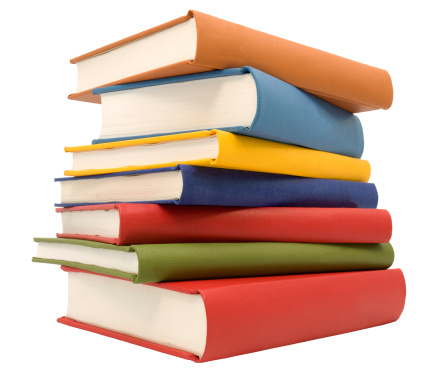 Jeanine Connor contributes book reviews to BACP journals and is Reviews Editor for BACP Therapy Today. These reviews represent personal opinion and BACP holds the copyright for all published reviews.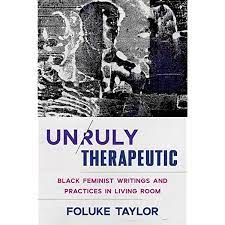 Unruly Therapeutic: black feminist writings and practices in living room, Foluke Taylor
This is a difficult book to read – which is not a criticism. Taylor's creative use of language, which is in turn poetic, prosaic and personal, and her 'unruly' writing style meant that I had to concentrate, really concentrate on the journey this book took me on. And what a journey. Taylor describes her experience of 'unbelonging' and 'out-of-placeness' as a black feminist in mythical, theoretical and actual landscapes. She shares recollections of her birth from the 'forbidden territory' of a coupling between a white woman and a black man, and memories of being required to dance but not speak in a school play, kept in line by the roles assigned to her gender.
Taylor plays with semantics – 'the holes left by all these missing things; holey… rather than holy, as in blessed' – always encouraging the reader to wonder and wander a different path and let our minds wander too and challenge the philosophies of so many dead white men. She describes her intention, as a mother, to be straightforward, get things straight and meet the needs of her children straight away. She speaks of deep shade, poor lighting and all the other ways she is made to feel unsafe, and of why her name is 'black'.
In chapter one of this book, Taylor states that 'to think of centering black women as a necessity only for black women is another manifestation of the problem', the problem being, I think, that of 'othering'. She said in an interview that her book was not only for black women, which I took as an invitation to me, a white woman, to read it. I extend that invitation to you, whoever you are.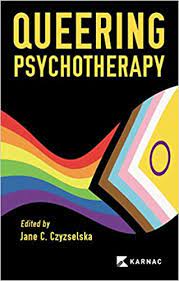 Queering Psychotherapy

Jane C Czyzselska (ed)
What a book! Over 16 rich chapters, the reader is stimulated, challenged and cajoled to consider the lived realities of queer experiences. Many chapters take the form of transcripted conversations between Czyzselska and a diverse – in every sense of the word – range of contributors. This style took a while to get used to, and I found the interspersed pullquotes off-putting, but that's my only criticism of what is, otherwise, an outstanding book.
Czyzselska presents the lesser heard voices of black feminists, trans and gender-expansive clients, queer sex workers, intersex individuals, lesbian patients and queer and trans children. They draw on their experiences as a white, queer, non-binary, trans relational, integrative psychotherapist, to engage contributors in conversations that aren't often shared in print. They explore themes such as dual relationships in the queer community, queer shame, intersectionality in training, emotional diaspora, meaning-making with queer clients, trans desire and embodiment.
As a psychotherapist who mostly works with young people, I was particularly interested in the chapter titled Don't panic! Queering the child, in which the co-authors assert that the notion of an 'idealised, heteronormative child' is imposed on babies, who are assumed to be heterosexual and binary gendered, even before conception. They see the act of 'othering' and dismissing queer children – as too young, confused or hard to believe – as attempts to silence them, because their very existence challenges heteronormative binary thinking. I think they're right. I wish they weren't. In the chapter on Working with trans children, the author shares a quote, which is, 'I've never thought about being white… what it might mean to be a cisgender woman.' This book tasks us all to think about our positions and privileges and to question the status quo.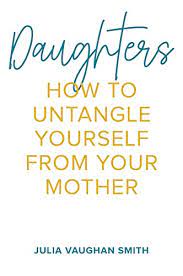 Daughters: how to untangle yourself from your mother

Julia Vaughan Smith
(2023)
Billed as a self-coaching book, this would be of value to any daughter with a desire to better understand the impact of the mothering they received in childhood and beyond on the woman they are today. It busts the myth of motherhood and the illusion of a happy childhood that many of us cling to. Vaughan Smith manages the difficult task, which so many authors fail to do, of explaining complex psychological phenomena in everyday language. If 'there and then' is continuing to impact your relationships 'here and now', or if you feel entangled, enmeshed, angry, hating, hurt, silenced, smothered, distanced, dutiful, resentful or responsible with or for your mother, read this.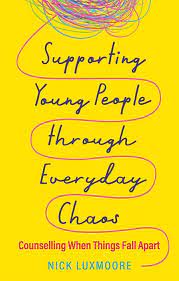 Supporting Young People Through Everyday Chaos: counselling when things fall apart
Nick Luxmoore
Reading this book, published posthumously after Luxmoore's death, was bittersweet. It begins with a foreword from colleagues whom he viewed as 'critical sounding-boards'. They present an overview of his approach to counselling with and writing about young people. Next comes a preface from his partner, who acknowledges that this book was written, in part, as a response to the sudden and tragic death of their daughter, the year before Luxmoore's own sudden and tragic death.
The introduction begins with the story about their daughter's death. Luxmoore asserts that '…we live with the perpetual threat of life changing suddenly' (p21). How prophetic those words would prove to be. Also prophetic is his statement that, '…underneath everything, it'll be a story about chaos of one sort or another' (p33). This book, written when things were falling apart, is Luxmoore's 13th, and, perhaps, his most personal. There are disclosures about his own grieving process and about his life and career. Knowing what we know now, that this would be his final publication, those disclosures feel like precious gifts.
It's not at all maudlin or self-pitying, though. It's filled with the usual humour and down-to-earth-ness we have come to expect from Luxmoore. I devoured it in a couple of sittings, and, as with everything I've read by him, I found myself nodding in recognition of the colourful characters he describes, his empathic but no-nonsense responses, the chaos underlying the young person's presentations, and the psychodynamic theory used to make sense of it. I always read with a coloured pen in hand, and my copy of this book is now abundantly highlighted with points of note, nuggets of wisdom and things that made me smile. I miss being able to do that with Luxmoore's writing on a more frequent basis – he was a regular contributor to this journal – hence the bittersweetness of reading this book.
Chapter headings all have the postfix '… and chaos', to illustrate that chaos is ever-present in the lives of young people. Chaos is not unusual, it's the everyday chaos of the title. Themes include anxiety, bullying, loss, mental health, anger, shame and, of course, school, in which Luxmoore describes the ways that young people's chaos gets into the staff system. He helps them (and us) to recognise their (and our) own capacity to be chaotic and to think about their (and our) relationship with childhood and adolescence, which is vital for anyone who works with young people in any capacity.
In the preface, Nick's partner gives thanks to all those who loved and continue to love him; that includes me, you and everyone else who met him, personally or professionally, in person and on the page. It was a privilege to work with him and a delight to read his final gift to the world of counselling children and young people.
Mothering Alone: a plea for opportunity
Mary Kay O'Neil (2022)
I was drawn to this book due to the relatively high number of young people who present in my therapy room whose fathers are absent. It's the first time I've seen 'single mothers' replaced with the more respectful and emotionally charged descriptor, 'mothering alone'. Respect and compassion are prevalent themes and are implicit in the plea of the subtitle. The book grew from O'Neil's research, in which she interviewed women engaged in Project Chance, a Canadian programme which supports emotional welfare and access to education for women mothering alone. She says, 'If they are not educated, if they are not healthy, if they are not empowered, the children are the ones who suffer.' (pxix).
Part I examines historical attitudes to sexuality, intercourse, pregnancy and motherhood. There is an exploration of parental and partner relationships, the influence of mothers and fathers and the role of the 'internalised mother'. Part I concludes with the life development stories of the women in Project Chance.
The three chapters forming Part II consider resilience, autonomy and caring under the umbrella heading of 'Maternal growth'. The focus of Part III is the 'Development of mothers alone'. O'Neil presents a psychodynamic understanding of women as mothers and there is a sense that this is where she feels most comfortable. She goes on to explore the role of society and says, 'When we improve the lives of women mothering alone… society benefits' (p142).
This book is neither a dry recording of O'Neil's research data, nor a narcissistic wish fulfilment to publish her PhD. It is an important contribution to the understanding of women (mothers and non-mothers), underpinned by psychoanalytic theory and woven with lived experience. I enjoyed it very much.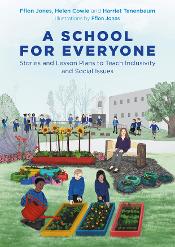 A School for Everyone: stories and lesson plans to teach inclusivity and social issues

Ffion Jones, Helen Cowie and Harriet Tenenbaum (2022)
This book of social stories and activities is designed to be used by teachers with children of primary school age. Marketed as a 'discussion tool', it would be equally valuable for counsellors and psychotherapists to help individuals or groups of children to think about and talk about their worries. The book is jointly written by a children's author, an anti-bullying campaigner and a developmental psychologist, whose joint experience and expertise is evident in the breadth and depth of the book's contents.
Each chapter presents a first-person story about a child experiencing a particular worry, followed by ideas for comprehension activities, which examine the meaning of language, and group activities, which encourage exploration and real-world application. Each chapter closes with teacher's notes and an extensive list of resources and websites.
The stories cover a broad range of themes, including identity (gender stereotypes, body image, race, culture, disability, transgender, autism), emotional concerns (cyberbullying, bereavement, frenemies), social concerns (poverty, climate change), family (divorce, family member in prison). This is a big list of big topics, and the authors have tackled each one well. The stories are inclusive of children with diverse genders and nationalities, which helps to normalise the experiences of all readers.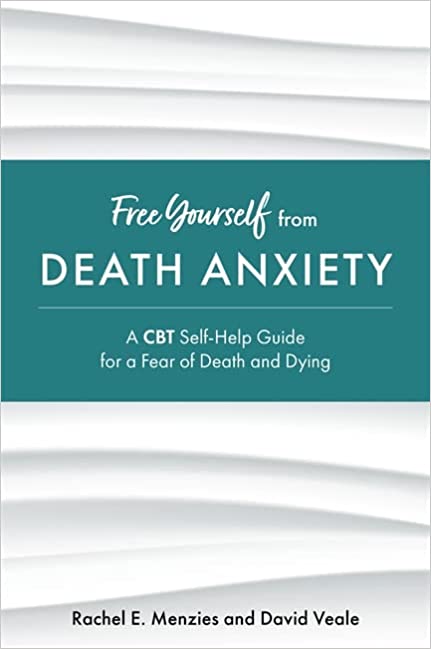 Free Yourself from Death Anxiety: a CBT self-help guide for a fear of death and dying Rachel Menzies and David Veale (2022)
Although billed as 'self-help', there is much to be gained for professionals from this clearly written, comprehensive book. Chapter one set outs definitions and introduces five fictional characters who are referred to throughout the book for illustrative purposes. Chapter two outlines evolutionary and child developmental theory, which contextualises why people might develop death anxiety. Chapter three explores 'thoughts' such as magical thinking, catastrophising, emotional reasoning and control, and 'behavious' such as avoidance and safety-seeking.
Chapters four to six set out treatment according to a cognitive behavioural model: defining the problem and goal, alternative ways of thinking and exposure. Even as a psychodynamic psychotherapist, there were some interesting ideas here, such as the 'symmetry argument' (i.e. being dead is the same state of non-existence as pre-conception) and the intolerable experience of 'not-knowing'. The advice against basing decisions on emotional reasoning jarred with me, as it seemed to be saying, don't trust your instincts. Likewise, the proposal that people who are more careful are less likely to live longer than people who are not careful seemed unhelpful. I had similarly conflicting responses to the 'what not to do' section. I was interested to read the idea that working through a hierarchy of fears (exposure by habituation) is considered outdated and has been replaced with exposure to high levels of fear.
The penultimate chapter about preparing to die was engaging, including ideas such as death cleaning, planning a death party, writing your own eulogy and practicing anti-superstitious activities, such as purposefully walking under ladders. The final chapter about living a meaningful life seemed obvious, but, from a self-help perspective it's perhaps worthy of inclusion.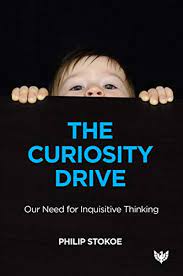 The Curiosity Drive: our need for inquisitive thinking
Philip Stokoe (2022)
I'm all for curiosity and was enticed by the title. The author is a psychoanalyst and organisational consultant who qualified at the Tavistock, which, to my mind, sets the concept of curiosity within a very particular context. The first three chapters are psychoanalytic-heavy, with discussions about love(L), hate(H), knowledge(K), paranoid-schizoid (P/S) and depressive(D) positions. Readers without a psychodynamic training might get very lost very quickly. I persevered.
I found chapter four, 'The myth of the healthy organisation', both a helpful reminder of group theory, as well as an interesting perspective on the roles we take up in groups, and why. Chapters five to nine explore practical applications of psychoanalytic theory to individuals, organisations and politics, with examples from Stokoe's long and varied career. The title of chapter ten, 'Love in Shakespeare', came as a welcome surprise. My initial thought, that it might be lighter than the preceding chapters, was dashed by the introduction, which reminds us that adults move continually between P/S and D positions and civilised society occurs when H is expressed with K in the service of L (p209). The author exemplifies the theory through Romeo and Juliet, Antony and Cleopatra and Hamlet making it (slightly) more accessible
The highlight, for me, came in the final chapter, 'The problem with curiosity', which tackles religion, culture, climate and 'alternative' therapies such as bodywork. The writing was more playful and the discussion felt new and interesting. I was curious to discover more. The danger of curiosity, according to Stokoe, is the expectation of finding meaning (p249). I think that was the danger for me of judging this book by its title. I didn't find meaning, but I remain curious.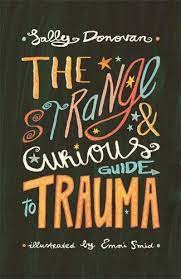 The Strange & Curious Guide to Trauma
Sally Donovan (2022)
This book is, quite simply, fabulous. Written by an award-winning writer, blogger and adoptive parent, Donovan knows her stuff and knows too how to present it in an accessible way. This book tells the story of Ordinary Jo (great name for a character), who wakes up in his ordinary house on an ordinary day and then experiences a trauma, which isn't ordinary, but can happen to anyone at any time. Donovan talks about the 'funny feelings' that buzz around inside Jo like bees in a shoebox. She stresses that, when trauma happens to you, it's not your fault. She uses a lovely analogy of two carrots: Perfect Percy grew up in nutrient rich-soil and is smooth and chunky, and Wonky Wendy grew up in stony soil and is a wonky, curious shape. Donovan talks about ordinary and extraordinary dangers that can lead to trauma. The science bit is explained with the help of child-friendly illustrations and descriptions of Amy Amygdala, Adrian Adrenaline and Courtney Cortisol. We are introduced to a wall of fame of 'Clever Humans' including Albert Einstein and Martin Luther King and warned about 'Some People' who look like ordinary people but don't have the knowledge about trauma or science and so can say the wrong things. The book is recommended for children aged eight to 12 but I'd say it's suitable for reading with younger children too.
Donovan has managed to create a valuable resource that is child-friendly but not childish, factual but not frightening, funny but not silly. The Strange and Curious Guide to Trauma is a welcome addition to my therapeutic bookshelf and a book that I highly recommend.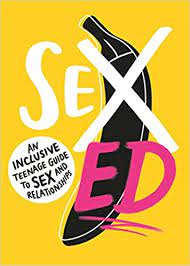 Sex Ed: an inclusive teenage guide to sex and relationships
School of Sexuality Education (2021)
Would you feel comfortable reading about porn, anal and oral sex, slut-shaming and sex toys? What about reading about these topics with an adolescent? If you answered 'yes', this book is for you. If you answered 'no', this book is also for you, because it doesn't shy away from the sex topics that teens are talking about, and it encourages adults not to shy away from them either.
The book is divided into 10 chapters, covering everything from 'Consent' to 'Online life', and is written in a way that makes the awkward stuff less awkward and the complicated stuff easily accessible. The authors have taken a huge step up from other sex ed books I've seen for teenagers, and not just with the more graphic content. The 'Consent' chapter, for example, talks about power, capacity, body autonomy and non-verbal as well as verbal consent. This comes up again in chapter 5 and again in chapter 9 in relation to porn. Other online topics include image based sexual abuse, digital empathy and sharing nudes. I liked that 'Gender and sexuality' formed chapter 2, rather than being stuck at the back as an afterthought, as it often is. The themes covered in 'Relationships' are so relevant, yet so often overlooked – boundaries, privilege, honesty, jealousy, break ups and gaslighting. 'The Body' has some great anatomical detail about bodies with a vagina and bodies with a penis, including illustrations. The section on periods is the most informative I've seen, including advice about how to remove a stuck tampon – where have you ever seen that before? 'Sex' is discussed in all its forms and figurations, with a clear message that there's more to sex and virginity than penis in vagina. Chapters 6 and 7 discuss 'Reproductive health' (conception/ contraception, fertility/infertility, miscarriage and abortion) and 'Sexual health' (STIs) respectively. The chapter about 'Body image' is another one that feels particularly pertinent for teens today. It talks about body positivity and neutrality, fat phobia, intuitive eating and representations of beauty.
The text is interspersed with 'Useful terms' such as cisgender, heteronormative and mutual masturbation. There's also a glossary at the back. Comment boxes asking, 'Did you know?' include interesting facts about erections, monogamy and online dating. Other pop-up boxes explain the difference between 'Myth' (too much masturbation is bad for you) and 'Reality' (masturbating can be a healthy way of exploring your body). Real-life anecdotes, presented as 'Unembarrassable moments', include experimenting with a menstrual cup and telling a boy you like him and him not liking you back. There are 'Tips and tricks' and things to 'Consider', such as the kinds of bodies we are told are acceptable, the kind of bodies we see presented in the media and the kind we don't (p184). The simple diagrams and illustrations are, overall, informative, except for one small illustration which got my goat (a sperm with goggly eyes and a smiley face). Every chapter includes a page of resources and there are notes for parents and teachers at the back. If you work with teens or have one living in your house, you should read this book and so should they and then you should read it together.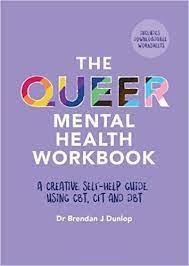 The Queer Mental Health Workbook
Brendan Dunlop (2022)
The author identifies as queer and uses the term with a capital Q 'to represent all those who are not cisgender and/or heterosexual' (p16). He asserts the importance of language in shaping and understanding identity and how difficult that makes life for LGBTQ+ people in the global north, who feel different from the dominant narrative. These assumptions set the scene for the book, the first of its kind, which aims to help queer people flourish in a cisgender/heteronormative world. This shouldn't be a big ask, but sadly, it is. It feels like a big book, too, with almost 300 pages, divided into 16 chapters.
Part 1 is about Being Queer, with themes of identity, relationships (with self and others) and intersectionality. There are boxouts, asking, 'Did you know?' about, for example, the Sexual Offences Act (1967) or Section 28 (1988). Most chapters have a summary and links to other chapters, which makes the book easy to navigate. The stars of the show are the activities – this is a workbook, after all – which are plentiful, pertinent and considered. For example, Dunlop presents Circles of influence, inviting the reader to consider the wider circle of culture, society and media and the smaller circle of family, friends and teachers. There's theory, a clinical vignette or personal anecdote, a visual representation, an example of how the activity might be completed and a blank template for the user. Each activity follows this format, so it feels as if Dunlop is taking the reader by their metaphorical hand and gently guiding them, which he, or you, or I, might, of course, if we were using this book in session with a young person. There are familiar and generic self-care activities, such as 'go for a walk' or 'treat yourself to a bath bomb' and others which are specific to the book, such as Dunlop's copyrighted THINK skill: (an acronym for think, have empathy, interpretation, notice, use kindness), which is applied to different scenarios.
Part 2 is about mental health difficulties; Dunlop is explicit about the choice of 'difficulties' rather than disorders or illnesses. He discusses feeling anxious, feeling low, sleep and eating difficulties, trauma, shame, self-harm and suicide. His experience, both as a psychologist and as a queer man, is evident in the way he takes each difficulty, normalises it, explains the science, applies it to real (queer) life and then presents an activity to manage it. There's a sense that Dunlop gets it; on a professional and a personal level, which will be a comfort to his readers.
DSM: a history of
psychiatry's bible
Allan V Horwitz (2021)
I've worked within mental health teams, dominated by psychiatry, which, for a psychodynamically oriented psychotherapist, hasn't always been an easy fit. The author's status as professor of sociology suggests it's not easy for him either, but it makes for an interesting perspective from which to examine the history of the DSM.
Horwitz refers to a 'bio-bio-bio' model that emphasises brains, genes and medications. His fascinating book is divided into seven chapters, tracing the DSM from its inception in 1952 to DSM-5 (2013). The author proposes three interpretations: as an example of scientific progress; as a way of imposing stigmatising labels; as a product of intra-professional and social forces. He examines them all. DSM-I emerged to meet the practical need of asylums to collect statistical patient data. The first incarnation listed 106 disorders; DSM-II (1968) listed 182. As an aside, the 1978 edition had 64 pages of drugs advertisements. The 500-page DSM-III (1980) aimed to develop 'empirically defined criteria' based, not on clinical practice, but on research. Psychiatry declared it a victory, while psychoanalysts deemed diagnostic labels based on symptomology 'second-rate'. By the time of the revised version of DSM-III(R) and the later DSM-IV (1994), the main source of opposition was from feminist groups, who regarded the inclusion of menstrual disorders (premenstrual syndrome and late luteal phase dysphoric disorder) and diagnoses for victims of domestic abuse (masochistic personality disorder and self-defeating personality disorder) as 'victim blaming'.
According to Horowitz, the 947-page DSM-5 is not much better than its predecessors and reflects an increasing medicalisation of emotion and behaviour. I expected this book to be dull and dry – it's neither. And I wondered what it would have to offer to counsellors and therapists – it has plenty.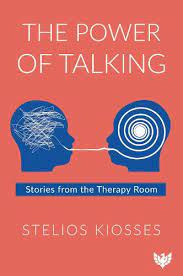 The Power of Talking: stories from the therapy room
Stelios Kiosses (2022)
It's intriguing to get a peek behind another professional's therapy room door, particularly those of note or renown. Here, the TV psychologist and presenter of Channel 4's The Hoarder Next Door, introduces five case studies with presenting issues including somatisation, depression, addiction, bereavement, marital discourse, the lesser-known condition of sexsomnia, the lesser-acknowledged phenomenon of female sexual abuse – which shows up twice – and, not surprisingly, hoarding. These are bookended by chapters On being a therapist and Final thoughts. Kiosses offers insight into how he works, in the therapy room and online, using an integrative approach incorporating CBT, psychodynamic and transtheoretical models. The straightforward definitions would be useful for the novice therapist, trainee or layperson.
The author weaves in concepts of projection, denial, object permanency and vicarious trauma. He refers to timekeeping, culture and lockdown. There were statements that rang true, such as, 'what stands in the way becomes the way' (p87), and others that didn't, such as, 'flying with a client who has a fear of flying as the final step in the therapeutic intervention' (p127), and I disagree with the assertion that risky behaviours, including suicidal ideation, are not generally suitable for online work.
Sometimes the text felt clumsy, with theoretical descriptions presented as if they'd been spoken to the client, when really it felt like the author was addressing the reader. This was particularly apparent in chapter 4, about a couple, which also had several typos. Chapter 6, the one about hoarding, presented an inconsistent narrative which was confusing and, therefore disingenuous, perhaps in an effort to protect anonymity. There is a lot packed into 140 pages, perhaps too much, and it would have benefited from more rigorous editing.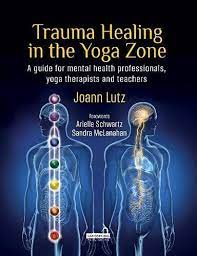 Trauma Healing in the Yoga Zone: a guide for mental health professionals, yoga therapists and teachers

Joann Lutz (2022)
I approached this book as an experienced therapist, novice yogi and curious scholar. The author has combined classical yoga, somatic psychotherapy and neuroscience to develop a nervous system informed, trauma-sensitive yoga model (NITYA). The book is divided into eight chapters. The first two set out the physiology and anatomy of the nervous system and the philosophies of yoga. Chapters 3 – 8 introduce the practical elements of breath work, hatha postures, yoga nidri and meditation, as well as illustrations of how Lutz incorporates NITYA into therapy sessions with individuals and groups. Each chapter begins with a vignette introducing a client, but these aren't elaborated or explored in the way we are used to in traditional psychotherapy books, with the exception of the extended case study in chapter 6.
There is undoubtedly a place where yoga meets therapy, which is apparent in my practice of both and is evident throughout this book. For example, Lutz encourages the use of 'invitational and interoceptive language' to empower choice – 'would it be alright if?' – and encourage connection with internal experiences – 'how does it feel when?' (p27). She also advocates starting where the client is (p43), using language consciously (p44) and encouraging spontaneity (p73) all of which feels familiar. The areas of unfamiliarity are interesting to consider.
Something that I think should be made explicit, which isn't, is that yoga therapy is a specialist discipline, requiring specialist training to develop specialist skills. The subtitle of this book implies that any mental health professional could add yoga to their repertoire of trauma healing, which I would caution against; just as I would caution against yoga instructors claiming to incorporate psychotherapy into their practice.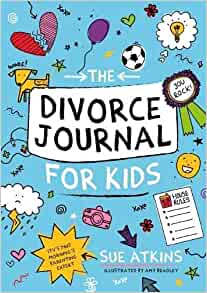 The Divorce Journal for Kids
Sue Atkins (2021)
This is a book which provides exactly what the title suggests: a guided journal for children aged 7+ whose parents are separating or divorcing. The introductory and closing pages have notes for adults, including parents, teachers, counsellors and psychotherapists, as well as a useful list of other books and resources. The opening pages also include an outline of what the journal provides, which is a place to get your feelings out of your head and explore them, express your worries, learn about yourself and understand what makes you loveable (p13). This sets a nice balance between what's difficult when your parents are divorcing and reminding yourself what's still good – about yourself and each of your parents – which sets the tone of the book.
There's no index or chapter headings, which there aren't in a journal, although I suppose a child could choose to work through the book from start to finish or choose (or be steered towards) different pages that feel more or less relevant depending on their age and experience. Preliminary activities include 'All about me' and 'All about my family', followed by pages about marriage, separation and divorce, that have simple, factual definitions and spaces for a child to add their own thoughts about what is changing and what will stay the same. Younger children might find the guided activities which address common emotions such as sadness, anger and helplessness useful, while older or more emotionally literate children might prefer those that allow for greater freedom of expression.
What I like most about the book is the balance. The underlying message seems to be, things have changed, your parents aren't going to live together anymore, and they might have stopped loving each other, but they haven't stopped loving you, because you = amazing (p110). It is a realistic, useful, supportive and ultimately positive journal, which is a valuable addition to my therapeutic bookshelves.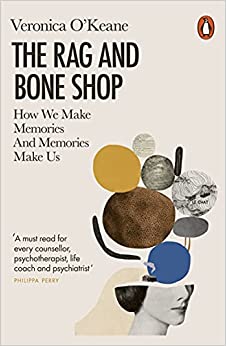 The Rag and Bone Shop: how we make memories and memories make us
Veronica O'Keane (2021)
This is set up as a book of two halves, written by a practising psychiatrist. Part 1: How we make memories, explores the 'raw ingredients', including the ways we make sense of place and experience, how we understand time, and how (and why) we remember and forget. It's interesting and informative, drawing on brain anatomy and process in a way that's accessible to readers with no medical background. The simple line drawings make the complicated function of the brain seem fathomable and O'Keane is a good teacher. The nuts and bolts of how memory functions are brought to life with case studies from her own work and with reference to literature. She challenges psychanalytic theory, such as Freud's 'so-called talking cure' and states that his diagnosis of Anna O (hysteria) '…could have been accounted for by tubercular meningitis' (p49). I didn't mind the bedrock of my chosen modality being challenged; it's good to reflect on our beliefs.
With 'the science bit' under my belt, I was looking forward to part 2: How memory makes us, with chapter heading such as Self-recognition, A sense of self and The shifting narratives of life, which sounded tantalising to my psychotherapist ear. But what I discovered felt like more of the same: more science, including an exploration of the function of sex hormones and of the prefrontal cortex; more case studies with a medical slant towards 'severe and enduring mental illness' (p140) including delusions, psychosis, psychopathy and schizophrenia; and more Freud-bashing, describing him as the inventor of 'befuddling concepts', accusing him of theorising in 'increasingly obscure language' (p209) and suggesting that Freudian techniques 'developed into a monster' (p210). Prepare to be challenged.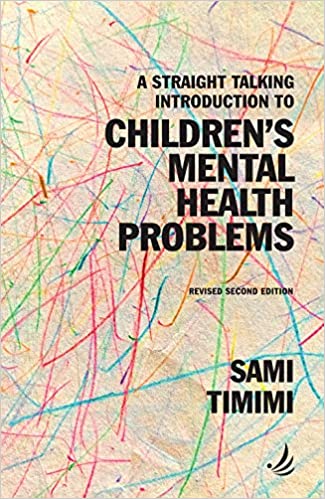 A Straight Talking Introduction to Children's Mental Health Problems
Sami Timini (2021)
Review published in BACP Therapy Today
Child and adolescent psychiatrist Sami Timimi examines the complexity of children's mental health in this little book (150 pages) that packs a big punch. It is divided into five chapters: The work of culture, Childhood in today's world, Common diagnoses, Common treatments and Getting help. There is something provocative and enlightening in every one of them.
Timimi's mission is to make sense of why children are more likely than ever to be diagnosed with and treated for a mental health condition. He says diagnosis might 'satisfy our understandable thirst for certainty' but warns that it betrays a 'more important need for truth and honesty' (p04). Truth and honesty are what this straight-talking book delivers in abundance. Timimi refers to the 'trick' of classification and argues that classification systems are social constructs, rather than the result of biological knowledge (p56). He argues too that with a dominant ideology that says competition improves population and personal wellbeing (p22), there are inevitably winners and losers. Losers display insecurity, performance anxiety, self-harm, eating disorders, depression and social phobia; disorders and dysfunctions arising from internal failings that require correction by health professionals.
Cultural norms and social constructs are examined, leading to uncomfortable questions about the 'value' of children with mental health diagnoses in a society that is based around an economic need for profit. Prescription drugs are put on trial, So too, rather uncomfortably, but necessarily, are the talking therapies.
The language is accessible enough for readers with no psychiatric knowledge, but with enough of an evidence base to satisfy professionals. The style and content combined makes this a must-read for anyone interested in understanding more about children's mental health problems and how to help them.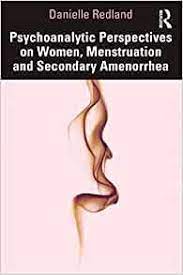 Psychoanalytic Perspectives on Women, Menstruation and Secondary Amenorrhoea
Danielle Redland (2020)
Review published in BACP Therapy Today
Wearing her psychoanalytic thinking cap, Redland has written a book that explores the ways in which menstruation, and the absence of menstruation, has been represented in culture, religion, medicine, war, literature, economics and politics. Her investigation pays particular attention to secondary amenorrhoea (the cessation of menstruation for three–six months in women with previously regular menses) which, she says, 'deserves to come out of the shadows of its menstruating counterpart… to reveal itself as that which is rich in symbolism with a multiplicity of narratives and identities' (p14). And reveal it she does. Redland explores topics as diverse as 'war amenorrhea', a term she uses to describe the effect on Jewish women in Nazi Germany, to amenorrhoeic women in literature, such as Lady Macbeth, and in history, such as Joan of Arc, via Pygmalion, Pinocchio and Pretty Woman.
The book grew out of Redland's PhD research and is rich with psychoanalytic references and quite dense in parts. There are some clinical vignettes, but these mostly take the form of psychoanalytic reference too, for example Freud and his analysands Dora and Emma Eckstein. Redland's own work is mentioned but seems overshadowed by the literature review. This is not an easy read, but it is a compelling one. It drew me in and took me on a journey of exploration and discovery. I needed regular breaks, in order to take stock and absorb the weight of it all. For a time, I had to abandon the book altogether and seek out a less cerebral read. There could be something symbolic in this; I'm sure Redland would think so.
This is an extraordinary text which draws together breadth and depth and deserve to be studied.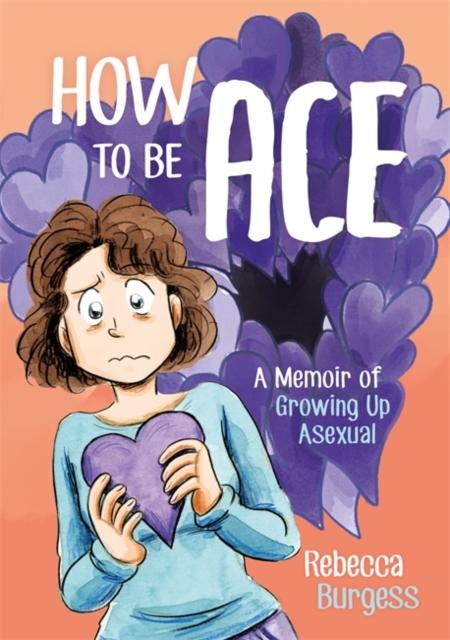 How to be ACE: a memoir of growing up asexual
Rebecca Burgess (2020)
Review published in BACP Children, Young People & Families
The author of this book identifies as asexual, they/them and as an autistic illustrator. Their comics have been published in the Guardian, while this graphic memoir is their first book. Graphic is used in the illustrative, rather than explicit sense; there's no sex, which is kind of the point. The first page of chapter one, How to pretend you're something you're not, depicts Burgess with their head in a book while peers all around them are talking about sex. This sets the scene for Burgess's adolescence.
How to be ace
is a personal journal in comic book form, recording the author's experiences of school bullying, anxiety, depression, phobias and obsessive compulsive disorder (OCD) through adolescence into early adulthood. It records their struggle to make and maintain relationships with peers against a backdrop of school, university, graduation and recession. We witness Burgess embarking on therapy, discovering they are autistic and learning how to live in a political and social climate that misunderstands what it means to be asexual. Asexuality is widely invisible or misunderstood within our culture, and Burgess asserts that while it does not define them, it has shaped their experiences. They believe that by giving asexuality a label, it can be more present and by being more present, it can be better understood. I didn't find the format of this book very easy to read, but that said, I'm not its target market. Younger adolescents, struggling with their identity and/or mental health, might enjoy the illustrative, first-person presentation and honest accounts of what it means to be asexual in a world obsessed with sex.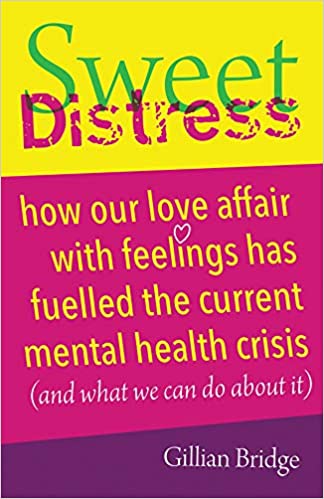 Sweet Distress: how our love affair with feelings has fuelled the current mental health crisis (and what we can do about it)
Gillian Bridge
(unpublished review)


I learnt about this book from a somewhat benign review and was intrigued. I expected it to be provocative and was looking forward to being challenged. What I wasn't prepared for, was for everything I've ever learned or held dear, over 20+ years working with young people, to be totally trounced; which is how it felt to me. According to Bridge, I've committed two mortal sins already; I've named my feeling response and I've spoken in the first person. According to the author, that's a big part of the mental health problem. Other contributing factors are: studying art-based subjects rather than things like management and engineering (p46–47); social activism (p78); ambition, when the reality is '…more lowly work [italics added] in areas such as selling, caring or marketing' (p88), too much parental praise (p91) and educators making topics 'relatable' rather than factual (p96). I found other assertions questionable too, such as the idea that a lack of consistency in language can cause acting out '…in higgledy-piggledy ways, leading to anxiety, depression, ADHD and even latent psychosis'. (p86). Bridge warns that we '…shouldn't rely too heavily on what people say they remember (or on self-evaluation of any kind)', citing research on false memory syndrome, where people have recalled things that didn't happen including '…worst of all, being sexually abused as children' (p101). As if that wasn't enough to boil my blood, in the chapter on identity, Bridge cites research that has found 'two significant factors' in the lives of transitioning children; 'very troubled histories' and 'binge-consumption of online trans forums'. How distressing.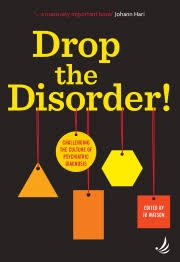 Drop the Disorder! Challenging the culture of psychiatric diagnosis, Jo Watson (Ed) (2019)
Review published in BACP Therapy Today
'There is no definition of a mental disorder. I mean, you just can't define it. It's bullshit' (p12). Depending on your training modality and personal beliefs, you'll either be scratching your head or applauding right now. The person who made that striking statement, quoted in chapter one, is the chair of the DSM-IV committee – so where does that leave us? Perhaps it leaves us on the brink of a revolution. The contributors to this book share their experiences of diagnosis from both personal and professional perspectives. They put forward persuasive, evidence-based arguments against the medicalisation of psychological distress and argue that psychiatric diagnosis does more harm than good. It is suggested instead, that a thorough exploration of a person's history, leading to formulation rather than diagnosis is more fitting and more beneficial. I agree. The assertion is that diagnostic explanations are pseudo science and 'have no place in our profession' (p235). This is a thought-provoking, challenging and accessible collection that everyone working in the psy professions should engage with.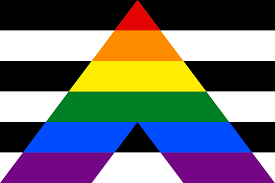 The Book You Wish Your Parents Had Read (and Your Children Will Be Glad That You Did), Philippa Perry (2019)
Review published in BACP Therapy Today
This is the long awaited, much hyped, widely publicised third book from one of the UK's most renowned contemporary psychotherapists. The title suggests it is for anyone who has a parent or is a parent – so everyone then. With the bar set so high, I was apprehensive when my preview copy arrived. Needlessly; Perry has delivered again. Each of the book's six parts includes commentary, theoretical references, clinical vignettes and reflective exercises. Part one: 'Your parenting legacy' encourages the reader to consider their own experience of being parented with a particular focus on 'rupture and repair' – an exercise that is equally useful for therapists. Parts two, three and four are about the experience of pregnancy and parenting, family relationships and attachments. Part five: 'Conditions for good mental health' is a natural progression from all that has come before. It emphasises the importance of containing, expressing and validating emotion, facilitating dialogue and, most importantly, responding to children as people not things.
I cheered (internally) during Part six: 'Behaviour: All behaviour is a communication', notably at the bits about the importance of telling age-appropriate truths, putting words to feelings (again) and defining our own boundaries. Perry's sage counsel is grounded in psychoanalytic theory and delivered in an accessible style. I recognised suggestions I have shared with parents struggling to get to grips with their children's behaviour, as well as with supervisees working with children and young people. If there was room on the wordy cover to add a further subtitle I would suggest, 'and so will your clients'.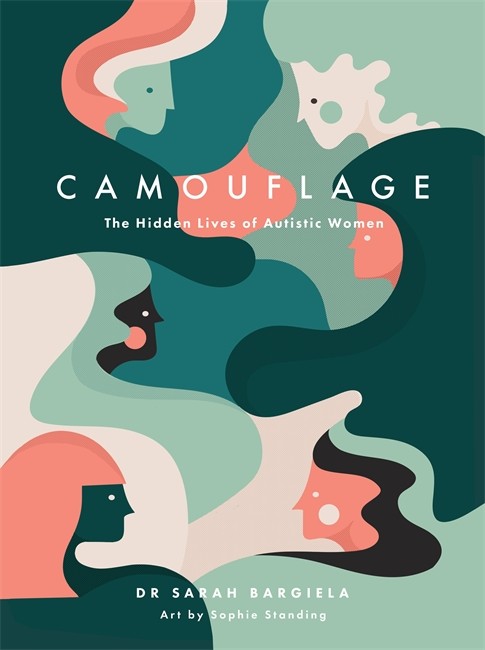 Camouflage, the hidden lives of autistic women, Sarah Bergiela (2019)
Review published in BACP Children, Young People & Families
This is a beautiful book inside and out. Perhaps its design conveys an unconscious message about the autistic women interviewed by the author while researching the content. But regardless of the intention, the book is exquisite. It is a graphic book aimed at ages 11+, which isn't explicit in the title 'women'. The title comes from the notion that women are more likely to camouflage autistic traits and are therefore less likely to be diagnosed.
The book's aim is to illustrate, through fact and imagery, gender differences between men and women diagnosed (or not) with autism. It is divided into logical components (of course) that explain the history of autism and its characteristics including restricted interests, repetitive behaviours and sensory sensitivities. The book then shares the narratives of three autistic women organized into four headlines; You're not autistic, Pretending to be normal, From passive to assertive, and Social identity based on interests. This is a valuable resource for helping women and girls to understand their autistic traits or diagnoses.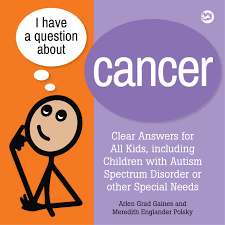 I have a question about cancer, Gains & Polsky (2019)
Review published in BACP Children, Young People & Famiies
According to the charity Cancer Research UK, one in two people in the UK born after 1960 will be diagnosed with some form of cancer during their lifetime.1 I know you can do the maths, but that means half of us, half of our relatives and friends, half of our clients and half of their family and friends. Given that statistic, it is no surprise that several of the young people I work with at any given time are affected, scared and confused by cancer. I was therefore keen to read the third book in the 'I have a question about' series, by authors Gaines and Polsky. (Their previous titles are, I have a question about death, 2017 and I have a question about divorce, 2018). The American authors have a background and experience in social work and special educational needs and have clearly drawn on that experience to produce a comprehensible and not at all frightening book about a really quite frightening topic. It resembles the kind of picture book you might find on the bookshelves of young children up and down the country. It has a hard cover, less than 50 pages and is brightly coloured. The target is ages five–10, but I think it would be of value to younger infants too. The content is divided into three parts.
Part one is 'the complete story', expressed through straightforward text and SymbolStix illustrations, a symbol-based language. The story is told in the first person, by a child of no fixed age, race or gender. It describes their regular daily routine being shattered by the news that someone they love has cancer. The story then becomes based around the child's questions, such as 'What does it mean that someone has cancer?, 'Can I catch cancer?' and 'What will it feel like for me when someone I love has cancer?'. The questions are answered honestly but in a child- friendly way. There are explanations about how cancer develops and different types of treatment, that children will find reassuring. The big question for many children (as well as adolescents and adults), is secreted in the middle of the story: 'Can someone die from cancer?' The authors again provide reassurance – 'Yes, but many people don't die from cancer' – which might be what the child reader wants to hear, but I think it somewhat avoids the awful fact that many people diagnosed with cancer do die from their illness.
Part two is a 'short picture story' that retells the story from part one, using some of the same illustrations but fewer words. This is suggested for children who learn visually or those who want to think about the story independently. I think this might have worked better as an aid to independent thinking if the questions had been included without the answers.
Part three provides suggestions for parents and caregivers. It advocates honest, clear language delivered in manageable chunks and an avoidance of euphemisms, which I wholly applaud. The advice about how to address children's concerns about death remain tempered in the suggested response, 'Many people who have cancer live a long life, but it is possible to die from cancer.' I have supported numerous young people whose loved ones have been terminally ill and facing imminent death. They struggle to accept this unbearable truth, and in some ways the book seems to do so too.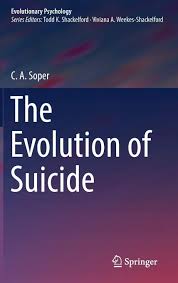 The Evolution of Suicide, C.A. Soper (2018)
Review published in BACP Therapy Today
This book started life as a PhD thesis, which is apparent in its style, format and littering of references (approximately one third of its content is given over to reference lists). Not that this should put you off, as it's an interesting read. Soper posits the idea that suicide is an evolutionary puzzle and likely to be a maladaptive by-product of an adaptive trait. As she quotes, 'Once you equip a creature with the capacity to think, it is bound to think of other things than you originally intended' (p71). This introduces the 'brain' element of the 'pain and brain' model of suicide. The 'pain' element refers to emotional pain that is part of being human.
So

per points out that suicide is hard to do, and suggests this is in part due to our survival instinct. She suggests that low suicide rates (1.4% of all deaths) can be explained by the evolution of anti-suicide mechanisms
including psychodynamic defences and mental disorders
.
Furthermore, she proposes that the stigma around suicide as well as popular beliefs about suicide as taboo or immoral, also serve a protective function. Soper suggests that psychotherapy can restore a favourable paradigm of self-in-the-world and reduce suicide. Contrary to what the title might suggest, this is an upbeat exploration of suicide with a positive message.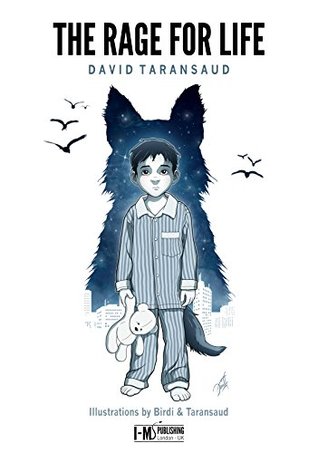 The rage for life, David Taransaud (2016)
Review published in BACP Children & Young People
The purpose of this wordless, black and white story book, so writes the author in the accompanying resource guide, is to help adults connect with young people through the safety of the metaphor. I've enjoyed Taransaud's previous books, which portray his therapeutic work with angry, aggressive hard to reach adolescents, so I was curious to review this one.
The book does, in fact, begin with words. It states that Lou, the book's protagonist, is a boy in wolf's clothing and that he is 'wild inside'. The reason for this we are yet to discover; perhaps he was born this way or maybe the beast was 'beaten into him'. This is a question often posed about angry and aggressive boys, particularly those who have witnessed violence at home.
The book is divided into three parts of a dozen or so pages, depicting events along a timeline. In part one (8.34pm) Lou is at home with his anxious looking mother as they await the arrival of a menacing, bottle-swigging figure, presumably dad. Scenes of domestic abuse are portrayed, prompting Lou to unleash the multi-headed wolf that rises up and escapes. I was confused by the wolf's subsequent attack on a frightened homeless man. I'm guessing this portrays an act of displacement as Lou projects the rage for his father onto someone more vulnerable. We are supposed to be working in the metaphor so this is open to interpretation.
In part two (10.58pm) someone calls 999. Father is handcuffed and removed while mother is stretchered away to safety. I had a 'yeah right' moment as this depicts a fantasy scenario for many families. In reality it takes months or years to acknowledge the need for help and even longer for that help to arrive. It is unclear what happens to Lou at this point in the story (is he left alone? Is he taken away?) but images follow of the 'beast on the loose'. The wolf is depicted facing riot police and attacking domestic animals. I understood this as Lou once again taking on the role of aggressor as a defence against his own vulnerability.
Part three (6.15am) sees the arrival of a new figure, a blind man who, to me, resembled Clark Kent. This superhero (my interpretation) meets the wolf in a dark alley but rather than be afraid he offers a hand of kindness, presumably because he can't see the beast. Lou, the boy, reappears and the wolf is released.
The images are powerful but for me, juvenile. The book's target audience is challenging and aggressive teenagers, as the author states his intention to fill a gap in the storybook market which is mostly aimed at children. I don't think he achieves that. The boy Lou looks about 6 or 7 years old. He is drawn on the cover wearing striped pyjamas and holding a teddy bear. Thinking in the metaphor, I can see that this little boy, surrounded by the shadow of a wolf, could portray the frightened child within the aggressive adolescent. However, I can't imagine the target audience taking the trouble to work that out.
I've put this book on my shelf and will introduce it to some of the younger young people I work with. I'm interested to discover how they respond to and interpret it and whether they are able to use it as a metaphorical tool to explore their own experiences. I think for younger children it could be a valuable resource. For adolescents; probably not so much.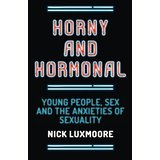 Horny and Hormonal: Young people, sex and the anxieties of sexuality, Nick Luxmoore (2016)
Review published in BACP Therapy Today
'I've never worked with a thirteen-year-old for whom sex hasn't been an issue affecting everything at some level', so says Nick Luxmoore in the introduction to Horny and Hormonal. Me neither, but people are often aghast when I say so. Those people, and anyone who works with or is the parent of an adolescent, should read this book.
In chapter 2 Nick talks about the sexual undercurrent in school performances, the frissons between students and the sexual feelings teachers might experience towards their pupils. At a time when the media are all over relationships between young people and authority figures, this is honest and brave. Luxmoore argues that to deny sexuality is to send it underground which is potentially more dangerous. He references Suttie's (1935) 'taboo on tenderness' and Nitsun's opposing view that sexuality is part of any group experience. He is advocating honesty and practices what he preaches. This is evident throughout the book but most explicitly in the chapter about sexuality in the counselling room (chapter 8) in which he reiterates the importance of acknowledging our feelings towards our young clients and theirs towards us. The author counsels that if we can enjoy the erotic transference we avoid idealization, demonization or acting out.
Luxmoore demonstrates his use of language when talking with young people about sex. He uses their language (dick, fanny, wank, blow-job, fuck) but he also his own to educate and inform. He includes a case example about a sexually active fifteen-year-old who's taken an overdose. What struck me was Nick's process of decision-making regarding confidentiality and when to share (or not) information with his client's parents. This illustrates how such decisions are never cut and dried; they are grounded in experience, courage, and a certain professional mettle, which Luxmoore has in spades.
Nick compares counselling with sex, stating that new experiences such as these are nerve-wracking but potentially transformational (p.30). He states also that how a person relates in therapy provides clues about how they behave sexually (p.163) and makes links between adolescent sexuality, infancy and parenting. These provide insight into how much relationship/how much aloneness a young person can tolerate with helpful theoretical references.
I noticed several gender assumptions such as girls portrayed as more likely to cry, be body conscious and it being their lot to withstand the advances of boys who are more likely to be sex-obsessed viewers of porn. This is how it is for most boys and most girls in most schools. The writing is honest, not stifled by political correctness.
Nick Luxmoore is my column-mate over in the CYP journal and I was delighted to be invited to review his latest book. We've never met, but I read everything he writes avidly, and often with a tinge of envy that such wise words are assigned to his name rather than mine. This book is no exception. Nick 'gets' young people and his writing is spot on.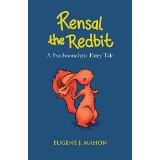 Rensal the Redbit, A psychoanalytic fairy tale, Eugene J. Mahon (2015)
Review published in BACP Children & Young People
I initially misread the cover title as Rensal the rabbit, but this was immediately rectified as the author explains that redbits are similar to rabbits except they are smaller, stay smaller for longer and are red. The story of Rensal has several features of a traditional fairy tale. It begins with the words 'Many years ago in Mytherranea…' which sets the scene for the tale of a mythical creature in a mythical land. It's a short book (70 pages) divided into shorter chapters with a number of repeated refrains. It feels like a book that wants to be read aloud. It has pictures.
This jaunty tale describes the developing relationship between Rensal and The Tall One, a grown-up redbit who is somewhat of a sage. Rensal's almost daily visits to The Tall One help him make sense of life's mysteries. It is easy to draw similarities between the fairy tale relationship and that of client/therapist. After their first meeting, Rensal ponders on how 'strangely different' this Tall One is from other Tall Ones in the way he listens. Rensal muses that it's as if 'your words went into him…' and '…what returns is a little of yourself, changed by contact with him, and a little of himself, changed by contact with you.' What a wonderful description of the therapeutic process of listening, absorbing, digesting and giving back.
We are reminded of the Tall One's acumen by the repeated refrain 'he scratched his chin, waiting for a wise expression to appear on his face…' which also illustrates his capacity to model thinking, as does 'he chewed his pipe as if thinking with his mouth'. These descriptions made me consider the ways in which I demonstrate my thinking to children in sessions – I tap my fingers on my lips, I gaze skywards in quiet but obvious contemplation. Mahon reminded me that these cues demonstrate active thinking in otherwise ambiguous silences.
The chapters are short, some only a couple of pages, with Rensal posing a particular mystery he's been grappling with in each one. Topics include the metaphysical; dreams, secrets, curiosity, questions themselves and imagination, which the Tall One describes as 'wishes and fears turned into good and bad pictures'. Big issues are also pondered over such as God, war, reproduction, beginnings and endings. Within these topics I noticed subtler themes of identification, projection and displacement and enjoyed the way the fairy tale relationship develops its own shape and form. The implicit power imbalance is also addressed, when Rensal confronts the Tall One with the assertion that 'your wisdom clips my wings' reminding us that sometimes the best thing we can do to foster curiosity is stay schtum.
It is evident throughout this little book that Mahon is both a child psychotherapist and a poet. The imagery conjured by his use of language is quite beautiful. Some of my favourites are – 'the question dropped like a pebble into his mind, you could almost see the ripples' and 'in the morning, the dream made off in a hurry like darkness running from light'. I enjoyed this psychoanalytic fairy tale very much and hope there will be many more to wonder over and explore.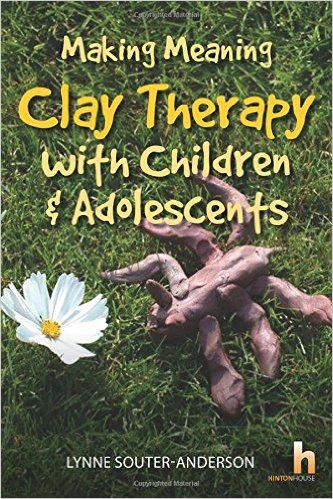 Making meaning Clay therapy with children & adolescents, Lynne Souter-Anderson (2015) Review published in BACP Children & Young People
I attended a workshop earlier this year called 'The use of clay in therapy' facilitated by Lynne Souter-Anderson, the author of this book. As an experienced counsellor/psychotherapist and an amateur potter I attended out of professional curiosity and had not anticipated the impact the day would have on me. Within a week I had added clay therapy to my therapeutic repertoire and continue to be moved and astounded by what happens when young people work with clay in the therapeutic setting. I read Lynne's first book, 'Touching Clay, Touching What?' and eagerly awaited publication and the opportunity to review 'Making Meaning' with its specific emphasis on clay therapy with children and adolescents.
Making Meaning is divided into four parts. Part 1: Clay therapy deals with the practical aspects of sourcing, storing and handling clay and the equipment required to get started, which is surprisingly little. There is also guidance on basic construction techniques and how to work with creations and processes therapeutically. This section of the book encompasses the practical aspects of the live workshop and is an accessible, user-friendly guide to clay therapy for the novice. Don't be tempted to skip it.
Parts 2 and 3 present ten case studies of children and adolescents ranging in age from 5 to 16 years. These are arranged in chronological order presenting a range of developmentally realistic issues – what a sensible idea. The author includes her reasons for selecting each case and relevant background information as well as honest depictions of her therapeutic work with each young person. I read them hungrily and learned something from every one. My only criticism relates to typos. A curious one appears on page 50 in the discussion of 5-year-old Evie's toileting trouble. It reads 'there was much being communicated that neither of us wishe ' and then it stops, mid-word, mid-sentence. I could make mischievous interpretations about 'withholding' but most of all I want to shout 'why wasn't this noticed prior to publication?' Also, I struggled to connect with 'Mattie' because of a number of typos and some jarring use of language that made reading this case study a bit like listening to a scratched record. Elsewhere in the book there was the odd typo here and there which is irritating but didn't detract me as much as the ones I've mentioned.
Part 4: Clay Therapy Initiatives outlines five recent research projects that have investigated the use and usefulness of clay in therapy. This section is reminiscent of Lynne's first book, but it is brief and worthy of inclusion. One of the research projects asks the question 'Is pottery on iPads therapeutic?' I must admit I winced at this title. Clay is a wet, soft, malleable, earthy substance; it can't be replicated electronically. Except, of course, it can. The research found that virtual clay offers opportunities for enjoyment, achievement and activating the imagination. I'll be sticking to the real stuff and no doubt dipping in and out of this book to guide me along the way.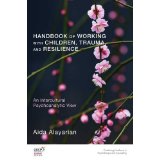 Handbook of working with children, trauma and resilience, Aida Alayarian (2015)
R
eview published in BACP Therapy Today
This title is part of the UKCP book series, which provides resources to practitioners within the psychotherapy profession. Aida Alayarian is a well-chosen author. She has almost thirty years clinical experience and is the founder, Clinical Director and CEO of the Refugee Therapy Centre (RTC) in London. Her book fulfils the series' overarching aim of combining research, theory and practice.
The book focuses on the experiences of refugee and asylum seeker children, with the explicit aim of examining the impact of torture. The opening chapter reminds us that one quarter of asylum seekers are children and that the trauma they endure is threefold; encompassing stressors endured in their country of origin, their flight to safety and their new environment. The author acknowledges her feelings of pain and anger in response to the children's narrative but acknowledges also that this will not help them and is not what they need. The book contains many clinical vignettes depicting the horror of refugee's experiences. It is difficult not to be pained or angered by them, providing a stark example of the challenge of working with this client group.
I found Alayarian's no-nonsense style of writing appealing. She draws on a wealth of psychodynamic literature including Freud, Erikson, Bowlby, Stern and Ainsworth. Readers without a psychoanalytic background may find this a challenging read, although Alayarian does a sterling job of making the underpinning theory accessible. She defines specific theories fully and explains with clarity how they relate to clinical work with refugee children. Alayarian's caution against pathologising is refreshing. She identifies post-trauma anxiety and depression as normal responses to environmental stress rather than signs of mental illness. Similarly, the importance of recognising adaptation strategies as a sign of health is illustrated, for example, by identifying 'healthy dissociation', which shifts the focus away from trauma and provides a much needed psychic break.
The 'resilience' part of the RTC model encourages a shift away from the traditional 'deficit, disorder, problem-behaviour' paradigm and instead encourages a focus on competencies, capacities and resources; in other words, the emphasis is on the haves rather than the have-nots.
The RTC treatment model focuses on the actual or perceived reality of each individual rather than following a generalised formula and appears to caution against the provision of medication. Alayarian advocates a systemic approach that considers the multiple factors and needs of the children themselves, as well as their families and school. If only the services of the RTC were available nationally and for all refugee children. And if only Alayarian could inform and educate all who encounter them! An excellent and timely publication.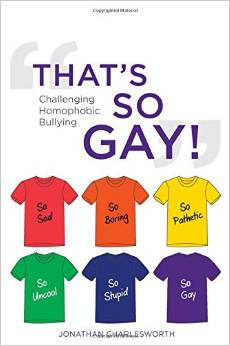 That's So Gay, Jonathan Charlesworth (2015)
Review published in BACP Children & Young People
This book is about homophobia written by the Executive Director of Educational Action Challenging Homophobia (EACH) UK. As such its target audience is schools. I was intrigued by the images on the cover of coloured t-shirts depicting derogatory slogans such as – so boring, so pathetic and so gay. Having read the book I remain intrigued. The author's premise is that homophobic bullying, which includes throwaway comments such as 'that's so gay', is fundamentally different to other types of bullying, so I wonder why the cover illustrates them in a way that suggests they are the same. This dilemma continues throughout the book with the author maintaining that homophobic bullying is different while often describing bullying in general.
In Chapter 4 'Why do young people bully homophobically?' the author suggests that both bullies and targets of bullying show signs of internalised distress, which is worth remembering but is not specific to homophobia. This chapter also contains some interesting examples of the ways that homosexual men and women are portrayed in popular television programmes, suggesting they are often ridiculed while the positive portrayal of gay characters is more subtle. While this was interesting, I was unsure how it related to the focus of the chapter.
Lots of the chapters contain, what seemed to me to be, good common sense; for example, descriptions of homophobic bullying, who experiences it, and the impact on those being bullied, etc. My concern is that this must be less than 'common' sense to have warranted five chapters in which case, the author provides a well-written reminder. Chapter 6 'How to respond' contains some obvious sanctions and the advice that prevention is better than cure, as well as some less obvious ideas about celebrating success in the absence of homophobia.
Chapter 7 'Working with those who bully' will be particularly helpful for school staff no matter what form the bullying takes. The advice about working with whole school systems and families is sound and evidence based. However, I disagree with the warning against working to raise self-esteem in aggressive bullies, which seems contrary to the author's perception of bullies as having 'internalised distress'. Surely raising self-esteem in the distressed young person is a good thing? It is in my clinical experience. As a psychodynamic psychotherapist, I winced at the author's bias towards CBT but acknowledge that this reflects a general trend in the public sector.
Chapter 8 'Sensitive handling of disclosures' uses language in a way that school staff may find confusing. For example in differentiating between disclosure and statement and the sometimes contradictory uses of confide and confidential.
The end of the book contains a glossary of terms that might perhaps be a useful place to begin reading. I wondered about the omission of 'transexual'.
In terms of target audience this is not really a book for counsellors. In terms of how helpful it would be to encourage schools to think about and address homophobic bullying is difficult to say. It might be a case that those who are concerned enough to read the book don't need to, while those who have the most to gain will ignore it and remain uninformed. This is a well-written book with some valuable aspects. Perhaps as a psychotherapist reviewer I haven't done it justice.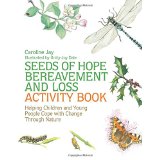 Seeds of hope bereavement and loss activity book, Caroline Jay. Illustrated by Unity-Joy Dale (2015)
Review published in BACP Children & Young People
I have just one criticism about this book so I'll get it out of the way. Its subtitle is 'Helping children and young people cope with change through nature'. It looks, reads and feels like a glossy children's book with coloured images predominating over text on every page. I think this will put 'young people' off. Having said that, the activities at the back of the book aimed at primary school and secondary school are stimulating and age-appropriate. But otherwise, this is fundamentally a book for the under-teens. The blurb says it's for children age 5+ but it would be really valuable for younger children too. With under-8s in particular, this is definitely a book to be read together with a containing adult rather than alone.
One of the great strengths of this book is the way it's been illustrated. The book is divided into colour coded sections, rather than formal chapters, with each one just a few pages long. The entire book has less than 80 pages and it is evident that the author and illustrator have opted for quality over quantity.
The opening section, titled Imagine, invites the reader on a journey through the seasons, encouraging an awareness of changes in nature and reminding us that life is part of death is part of life. Throughout the book, there are links to nature, the animal kingdom and ancient customs with an emphasis on the cyclical nature of life. Children are directed to draw, paint or write about their own experiences and to consider their associated thoughts and feelings.
The experiential activities use the symbolism of nature to illustrate memory and loss. Children are encouraged to recall happy memories about someone they love who they no longer see. This serves as a reminder that, just as life and death are interlinked, so too are happiness and sadness. The book is about bereavement and loss and the activities reference parental separation, moving away and falling out with a friend as well as the death of a person or an animal. The book does not impose a hierarchy; loss is loss, and children of all ages will find this message reassuring and affirming.
The theme of change is explored further in the section about Lifetimes which reminds us that change might be expected or unexpected. The varying life cycles of flowers, animals, insects and humans are illustrated with a message that 'sometimes the most beautiful things live for the shortest time' (pp25). The reader is invited to consider their own position on the life cycle as well as that of their parents and grandparents. There are no presumptions, so if a parent has died the reader can place them in a different section to a surviving grandparent and this can be thought about. The lifetimes are depicted as circles with no beginning or end.
With the exception of
The language of flowers
, which seems to be for information only, this is an activity book full of inspiring suggestions about how to explore loss and bereavement. The author has managed to share a host of beliefs and resources influenced by nature and varied cultures in a very gentle and entirely non-judgmental way. Even in
Poems and Stuff
this is evident; where words from Wordsworth and Longfellow sit alongside quotes from Ecclesiastes and The Koran and are followed by children's own words and drawings about, among others, loss of a parent and of a remote control car. This book is just lovely and I know I will use time and again it to explore loss with my younger clients.









Mindful therapeutic care for children, Joanna North (2014)
Review published in BACP Children & Young People
When I read the title, I wondered what this book might have to say to me that I didn't already know. Or if it had nothing new to say, would it inspire mindfulness and reflectivity in a more useful way? The first three introductory chapters did nothing to rouse my interest as they describe in wordy detail the concepts of reflective, reflexive and mindful practice. As I progressed through the next few chapters, I read case studies that illustrated the power of reflective practice, and these could be reassuring for trainee or inexperienced childcare professionals or parents. But those with even limited experience have little to gain. North asks the question: 'How bad can it get when people refuse to use their minds and reflect on experience?' Her answer: 'It can get really bad.' I almost gave up at this point. To illustrate, North uses the case of Vanessa George, the nursery school worker convicted of paedophilia, although for some reason she isn't named. I found this choice of vignette bizarre, with its implication that George's colleagues could have prevented the abuse she inflicted had they reflected on their own practice. Can that really be what the author means?
North supports her own ideas with psychological theory, but unfortunately this is outlined at such an elementary level that it seems ambiguous. For example, she states that Theory of Mind was proposed just 15 years ago by an American researcher, John Flavell. She then goes on to describe (what is essentially) Piaget's concept of egocentricism. But Piaget, who died in 1980, gets no credit. And nor does Descartes, who I'm pretty sure was writing about Theory of Mind in the 17th century! While there is no reason for North to refer to the earliest origins of Theory of Mind, to reference it as 'Flavell, 1998' misleads the reader. Similarly misleading is the 'Bowlby, 1988' reference repeatedly assigned to attachment. We all know, North included, that attachment theory predates Bowlby's 1988 publication by a good twenty years. As well as finding the content rather disappointing, I found the style of writing rudimentary and repetitive. The sentences are long. The text is littered with inappropriately used hyphens. The author says nothing new and even the typos felt predictable.
Chapter 6, 'The Reflective Practice Pentagon', is the longest and most beneficial chapter of the book. Although a pentagon, suggesting five aspects, the model details six components of therapeutic childcare – the child, the individual, the team, the system, expert help and theories, and working together – in detail, and as such, provides a constructive model for reflective practice. The pentagon model could form the basis of a valuable standalone manual for residential childcare workers (RCWs), social workers, foster carers and parents.
However, The Reflective Practice Pentagon, like the whole book, would be of little benefit to psychotherapists, except those in the very early stages of pre-clinical training and it bothers me that the list of 'who this book is for' lumps everyone who works with children together. In North's defense, she is not the only author who presumes such wide appeal, but, nevertheless, this is a mistake. Foster carers, social workers, teachers, RCWs, counsellors and child psychotherapists have infinitely different trainings and our job roles are immeasurably diverse. At the risk of sounding hierarchical, this book could enable a basic understanding of mindful therapeutic childcare for unqualified or newly qualified practitioners, but it has nothing to say to psychotherapists that we don't already know about in much more detail.








Waiting to be found, Papers on children in care, Edited by Andrew Briggs (2012)
Review written for BACP Therapy Today

After reading the series editor's preface and the acknowledgements and 'about the editor and contributors' and another preface and the foreword and the introduction, I finally got to Chapter 1. While I accept the need for some sort of introduction and context setting, I do think that 57 pages of preamble is overkill.
Chapter 1 is an homage to Hamish Canham, to whom this book is dedicated and who has contributed [posthumously] the next six papers of the book. Chapter 1 is supposedly a bona fide paper rather than another introduction, but in fact it explains, yet again and not very well, what is to follow. Having made it this far into the book, I just wanted to start reading something interesting.
Already frustrated, reading chapter 1 made me very cross indeed. There was a typo on the second page and by the time I had endured the full 15 pages I had circled so many grammatical errors, double negatives, incomprehensible sentence structures, and superfluous superlatives that I almost threw the book down in despair. 'Where is the editor?' I cried, before remembering that Chapter 1 was, unbelievably, written by the editor of this book.
Chapter 2, the first of Canham's papers to be published in this collection, I have read before, but it was refreshing to read again. There is much to be learned from this and Canham's subsequent papers; about therapeutic style, psychoanalytic insight and how to apply this way of thinking to work with Looked After Children, whatever discipline you work in.
Part II, from Chapter 8 onwards, also has lots to offer those of us working with children in care. I found something stimulating and/or recognisable in every case study and it was good to be reminded of the psychoanalytic literature that underpins our work with this particular patient group. This is a book I will dip in and out of again and again, but only from Chapter 2 onwards.









Family-Centered Treatment with Struggling Young Adults: A clinician's guide to the transition from adolescence to autonomy, Brad Sachs (2013) Review published in BACP Children and Young People




I wasn't looking forward to reading this book, deterred as I was by its cover and the undersized font within. But one should never judge a book by its cover (or its font size) and once I'd begun reading, I couldn't put it down. This was everything I hope a book to be; engaging, intelligent, illustrative, interesting, educational and enjoyable.
I have every respect for those who practice what they preach and the author of this book does just that. In the preface and introduction, Sachs outlines his own professional and personal experiences so that the reader is invited into the author's 'system' and can begin to see things from his perspective. Throughout the book he refers to his own families of origin and of making, and to his own personal experiences when it makes sense to do so. I like how Sachs uses excerpts from various genres of literature, film and music to illustrate the material throughout, rather than re-working quotes from more traditional psychological texts, as many authors do. I like this because it makes the book fresh and truly multi-systemic, and because it illustrates exactly what Sachs is advocating in his model of fluid family therapy (FFT).
I'm not sure I like the term 'launching stage' which is what Sach's calls the pre-adult phase of development, but I do like what he has to say about it. The first five chapters are, in essence, about starting family work at the launching stage, including assessment and family dynamics etc. In the latter five chapters, Sachs discusses the impact of life events, such as marital and money issues, at the launching stage as well as variations in his treatment model, including consultations with parents and with young adults. There are three 'interludes', which are essentially mini chapters and it's unclear why they are singled-out and called something different. These are integral to the book, and to the work, and focus on LGBTQ Issues, Digital Media and Countertransference (at the launching stage).
Rather than use snapshots from case studies to exemplify theoretical concepts, which can feel forced, Sachs has a way of weaving extracts from his therapeutic work (and personal life) throughout the text seamlessly. It feels as if the reader is in conversation with the author each time he says 'which reminds me of a patient of mine...' or something similar, which he does on almost every page.
This is an excellent book, intelligently written, which will have wide appeal. For the first time in a long time I felt as if I was reading something new rather than a re-hashing of the same old stuff. Even the two typos (p41 and p182) can't stop me from commending this book highly. And to respond directly to Sachs' closing words: 'You have not written in vain; far from it'.















Reading Anna Freud, Nick Midgley (2013)
Review published in BACP Therapy Today
Like many UK-trained child psychotherapists, I am less familiar with the work of Anna Freud than I am with Melanie Klein. This book reads as a potted history of psychoanalytic theory with Anna Freud as the central character. It is well-researched and informative. Midgley's writing is informal, reminiscent of Anna Freud's herself, which makes the book accessible to a range of audiences. What it lacks in academic style it makes up for in content.
The book is arranged into 13 chapters, each focusing on a different theme including applications of psychoanalytic ideas to education, development, observation, illness, law, assessment and diagnosis. Chapter 1 presents a biography of Anna Freud's life and work which provides a helpful context to the rest of the book.
It is difficult to consider Anna Freud's contribution to child psychotherapy in isolation, and the author makes many comparisons throughout the book to the work of her contemporaries, Klein in particular. Midgley also discusses the many influences on Anna Freud's work; including her father, Sigmund Freud, the Robertsons, Menzies-Lyth and Montessori, to name a few. This is helpful both in terms of historical context and theoretical understanding. It also provides a good model for thinking about the child in relation to and as a product of a wider system, which Anna Freud first proposed as imperative during the 1950s and 1960s.
The child as 'product[s] of their family backgrounds' (p35), is one of many taken-for-granted ideas about children which the author highlights as originating in Anna Freud's work. He also describes the unease she experienced in making diagnoses based on symptomatology and the inappropriateness of treating children according to their symptoms (Chapter 8). These examples make the writing fresh and very much alive to the modern clinician bound by care pathways and NICE guidelines.
For me, the book can be summed up by quoting directly from Midgley who states that the purpose of psychoanalytic research is 'not so much to assess the effectiveness of psychoanalytic therapy, but, rather, to develop a deeper understanding of the workings of the mind and of human behaviour' (p83). 'Reading Ann Freud' is a good example of exactly this; I have a greater understanding of Anna Freud now than before I read the book and for that reason is seems churlish to focus on the efficacy of the writing.















The Thinking Heart: three levels of psychoanalytic therapy with disturbed children, Anne Alvarez (2012)Review published in BACP Therapy Today
'I love psychoanalysis, not least because it works.' So reads the opening line of the introduction of this brilliant book. Here here! I first read Live Company¹ as a trainee, and remember being intimidated, baffled, and ultimately educated by Alvarez' writing. This book challenged and enlightened me in much the same way. It is not for the faint hearted, and readers without a pretty solid psychodynamic base would struggle with its concepts.

In essence, this is a book which guides the reader through levels of interpretation with disturbed states of mind. Alvarez, drawing on previous psychoanalytic theories and techniques, advocates subtle changes in grammar and syntax, depending on the state of mind of the patient. The 'three levels' of interpretation (and of the title) are: The explanatory level, which involves 'why-because' interpretations with neurotic, normal or mild borderline states of mind. The descriptive level; involving interpretations that attribute and elaborate meaning, for example with borderline or developmentally delayed states of mind. And the vitalizing level; involving interpretations which attract attention and assign meaning to, with patients who are unable to listen or feel and find it difficult to be interested in anything at all, such as those with autistic, psychotic or perverse states of mind.

Alvarez revisits and elaborates previous psychoanalytic literature; her own and others', in a way which engages the reader throughout. The 16 page bibliography might suggest that this is all she does, but actually, the flesh of the book is its rich case studies which hang on the theoretical bones and bring the whole thing alive. I like that Alvarez, with her 50+ years of experience, isn't afraid to revisit her clinical work or previous hypotheses and realise what she could have done differently, better even. I recognised aspects of my own patients in many of the cases presented, and felt encouraged to revisit, reconsider and ultimately reframe my thinking about these too. Alvarez is a great teacher; her knowledge is immeasurable, her writing is brave and her reflections are humble. She claims that her thoughts are 'only considerations, because the complexity of the human mind ... ensures that there can be no manual' (p86). I believe that the work of Anne Alvarez is the closest we can get to such a manual.
1. Alvarez, A. (1992) Live Company: Psychoanalytic Psychotherapy with Autistic, Borderline, Deprived and Abused Children, London and New York, Routledge













A Parent's guide to defeating eating disorders, by Ahmed Boachie and Karin Jasper (2011)

Review published in BACP Children and Young People
What a brilliant book! As the title suggests, it is aimed at parents of children suffering from eating disorders and, unlike many books, it does exactly what it says on the tin. It is theory-driven but not academic, intelligent but not intellectual, and condensed (163 pages) but never condescending. In fact, I think the authors have been fairly modest in that it delivers more than the advertising blurb claims.
The book is divided into nine easy-to-read chapters, including a conclusion. The authors begin by stating their rationale for the use of analogies and metaphors which are included throughout the book to explain the symptoms and presentations of young people suffering from eating disorders. Although these are often Americanisms, they can be easily translated and are really helpful at making sense of, a seemingly nonsensical, illness. I particularly liked the opening metaphor of the '911 call' (p.17) where an eating disorder is likened to an intruder. In this illustration, the young person calls 911 to ask for help. When help arrives, the intruder/disorder has a gun to their back and they turn the help away, deciding it is better to live with the intruder/disorder than to relinquish it for an alternative coping strategy that may not work for them. This also brought to mind cases of deliberate self harm, to which eating disorders may be comparable, and demonstrates why both have such a hold over our young patients.
There follows a ubiquitous history of eating disorders which includes a discussion of biological, neurological, psychological and cultural risk factors. While this is hardly news to mental health practitioners, it is laid out in an informative and educational way which absolutely absolves parents of any blame for their child's illness. This message runs throughout the book and will be of enormous comfort. The authors remind us of the, now seemingly ridiculous, claim made in the 1940s that autism was the result of 'refrigerator parents'. The absurdity of this will help parents to realise that holding themselves responsible for an eating disorder is equally misinformed.
What parents are responsible for, according to the authors, is facilitating the treatment and recovery of their child. We are urged to act quickly if we notice symptoms of a possible eating disorder, which are clearly spelled out. We are warned of the ways in which symptoms are masked, purposefully or not, and are encouraged to seek help early. We are cautioned that it takes 7 – 13 years for an adolescent to seek help for themselves and that recovery can take a further 5 – 7 years. If these statistics are intended to shock parents into action, I think they work.
Chapters 4 – 8 provide excellent vignettes which illustrate the various models of treatment for eating disorders. Each focuses on the importance of whole family intervention, and takes a 'parent-as-expert' approach. While this places responsibility with the parents, it does so in a way which empowers rather than disables. In one illustration the therapist states 'you were able to feed [your child] when she was little and needed to grow... now she needs you to help her with this again' (p75). In other words, reminding the parent that she knows how to provide the help her child needs because she has done it before. Like the tone running throughout the book, this statement is so gentle and yet so powerful.

A Collaborative Approach to Eating Disorders, by June Alexander and Janet Treasure (eds.) (2011)
Review published in BACP Children and Young People
There is a strong temptation to call this book about eating disorders 'weighty' or 'meaty' but I would not describe it as 'collaborative'. I came to the conclusion, about mid-way through, that the authors had not read each other's chapters or engaged in a dialogue about how the book would pan out. The result is a poorly organised, repetitive tome, which is another unfortunate casualty of inadequate editing.
The authors of Chapter 1 introduce the concept of the 'anorexic family', which interests me and I settle into my chair. They reference lots of studies that support this idea followed by lots of studies that don't and conclude that more evidence is needed. I scratch my head. I'm sure that the three eminent clinicians who wrote this chapter have something far more pertinent to say about their work than this...
The book is arranged into four parts, each divided into chapters. Part 1, on the whole, provided a sound introduction to risk and resilience for eating disorders. I learnt some new facts and figures but I wasn't particularly interested. There are case studies in boxes at the start of each chapter but they remain in shaded isolation as the authors don't really engage with them, which is disappointing.
Part 2 begins with a really positive introduction advocating the benefits of a multidisciplinary, collaborative, approach to treatment. But my high hopes were soon dashed as I was presented with more physical symptoms and more risk factors. Don't they belong in Part 1, Editor, Part 2 is supposed to be about treatment?
In summary, this book contains some really useful stuff but reading it involves a lot of sorting 'wheat' from 'chaff'. The book is inundated with references, 89 in the first chapter alone, and the complete bibliography takes up 61 of the 303 page total. I'm all for developing previous research and ideas but I also want to read something new to justify the cover price of a new book. 20% of this book is basically a reading list and the rest is padded out with quotes; the most ridiculous of all being 'vegetarianism should be regarded with suspicion'. As an adolescent psychotherapist (and vegetarian) who can count many eating disordered patients in her case load, I didn't know whether to laugh or cry.


You think I'm evil, by David Taransaud (2011)
Review published in BACP Children and Young People
This book challenges the popular [perceived] assumption that adolescents are evil, an assumption based on media reports and research of the UK population. The author works with 'challenging' adolescents and argues that perceptions of this demographic as 'feral', 'bad' 'monsters' can be overturned if we take the time and trouble to explore the childhood experiences of the adolescents we have come to fear and hate, yet hope to help.
Taransaud introduces the concepts of Wounded Self and Omnipotent Self which he uses to describe the split-off and opposing parts of the adolescent who has been deprived of good-enough parenting. The Omnipotent Self is the persona the tough, aggressive adolescent presents to the world, and is therefore judged upon, which serves to defend his hidden Wounded Self. The case studies are honest, poignant illustrations of how to engage both parts of the adolescent in order to help him to heal and to change. They successfully portray a sense of hopefulness for all of us who work with difficult to engage young people as well as for the young people themselves. This is a realistic, and also a very optimistic, book.
There is a healthy balance between scientific evidence and clinical illustration, as well as quotes from psychological theory and popular literature which are used well to support the author's argument. There are some exceptions and, in my opinion, omissions; the descriptions of transference, countertransference and projection are sometimes confusing; projective identification is used in many case examples but not acknowledged; the author tackles the negative consequences of anecdotal labelling (ignorant, stupid, evil etc.) but fails to mention the effect of formal labels such as Attention Deficit Hyperactivity Disorder (ADHD) or Autistic Spectrum Disorder (ASD) which professionals will recognise from the text.
The book is very readable; Taransaud's style is conversational rather than academic, while his use of language is down-to-earth [and at times repetitive]. This could be seen as a positive or a negative depending on the reader's experience and perspective. This book provides support, reassurance and practical advice which teachers, carers and social workers will find invaluable. Those with a more robust academic training experience should not be put off though. I was inspired, in particular, by Part three: practical strategies: new creative options which include suggestions for the use of stories, film and music within the therapeutic setting.
On the whole, I enjoyed this book and was stimulated by it. I have reflected upon it in my clinical work and referenced it in my research into the effects of domestic violence and violent media on young people. David Taransaud should be applauded for the honesty, vulnerability and lack of pretention displayed in this timely publication. Unfortunately, his editor(s) have done him a great disservice. I found the dozens of typos, spelling mistakes and grammatical errors littered throughout the book hugely frustrating and I ended up feeling very sorry that the author's work had not been shown the level of care it deserves. May I suggest professional peer review prior to the publication of book two? I would be happy to oblige!

Emotional disorders: A neuropsychological, psychopharmalogical and educational perspective. Edited by Steven G. Feifer, D.Ed. and Gurmal Rattan, Ph. D.
Review published in BACP Children and Young People
This is a weighty book both in the sense of its volume and content. The size and structure is typically 'text book', which might cause a heart sink moment for some potential readers, it did me. Undeterred by its less than pleasing aesthetic and the tongue twister of a title I soldiered on. Chapter 1 begins with a vignette that engages the reader with the topics of social neuroscience and neuropsychology. The author uses this to illustrate the relationship between body, brain, thought, emotion and environment in a way which makes theoretical sense and is not nearly as scientifically intimidating as the title might imply. However, I found the rest of the book far less engaging.
I was interested in the way the author of chapter 2 links early emotional experiences with brain development and goes on to explain how, in turn, neurobiology influences the development of temperament and emotion. Chapters 3 – 6 tackle psychopathology from the perspective of a medical model. The authors cite a wealth of evidence, mostly American, to support their claims of a relationship between specific brain injury and particular psychological dysfunctions in children. Their argument appears to be one of cause and effect, i.e. that abnormality in the frontal lobe causes unipolar depression and right hemisphere damage causes visual hallucinations and psychotic ideation, although the authors are never so bold as to assert this overtly. In fact, they are never so bold as to assert anything very much and the book soon descends into a mass of statistics over substance. For example, we are told that comorbidity of SLD and mental illness affects approximately 15 – 80% of adults (p.202) – is that information supposed to be useful?
The chapter (7) about psychopharmacology begins with a short aetiology of emotional disturbance which is said to be created by 'bad signals or programming [which causes] good neurons to be inadvertently destroyed'. I was irritated by this remark and totally incensed by the later claim that teenagers have 'lost their mind... since one-half of the synaptic connections from age 6 have been destroyed' (p.149). The author goes on (and on) to explain neurotransmitter function and the effects of medication in a dull and monotonous way and I found myself thinking, not for the first time while reading this book, so what?
The authors of the later chapters suggest that 'academic and behaviour problems tend to be viewed as single entities as opposed to a constellation of emotional, neuropsychological, cognitive, academic, motivational, familial and other factors' (p228). They then stake a claim for multi-modal methods of assessment and intervention as if they are pioneering a brilliant new approach. Note to authors: practitioners have been doing this for at least the last 20 years. However, even then, the authors can't quite resist resorting to form and claiming that 'it is important first to determine the underlying or core condition within the child and then choose an appropriate intervention' (p.239). So the environmental dimension of the nature – v – nurture dichotomy remains firmly abandoned in chapter 2.
The book feels out-of-date in other ways too; for example in its proposition that ECT 'may prove to be a valuable last resort' (p.171) and that 'medication is often used as a first line treatment for anxiety and depression' (p.244). Actually, out-of-date may be too kind; these claims are false (or maybe we do things differently in the UK?)
Overall, the explanations of emotional disorders, neuropsychology and psychopharmacology feel linear, reductionist and theoretical rather than interactional, holistic and therapeutic and I found the educational perspective to be obliterated by statistics. In my opinion, the authors have missed a valuable opportunity for joined-up thinking and this is a great shame.



















Healthy Attachments and Neuro-Dramatic-Play,

by

Sue Jennings (2011)Review published in BACP Children and Young People
The aesthetic of a book really influences my motivation to read it, so I was excited to receive this rather good-looking book for review. It has a pleasing size and shape; 271 pages and A5 respectively, and there are even illustrations, something many 'serious' authors shy away from. But Sue Jennings
is
a serious author with a serious message, as is apparent from the outset of this superb book. As a child psychotherapist, I discovered much within it to interest, engage and challenge me.
The first sentence of the foreword reiterates what I have learned to be true; that play is both powerful and necessary and that its presence or lack has a profound impact on children. This is a message which, in my opinion, cannot be shouted loud enough or often enough. The book tracks the development and application of Jenning's concept of Neuro-Dramatic-Play (NDP); a process which develops alongside and supports that of attachment. The author begins with a review of existing theories of attachment and play from the usual suspects (Bowlby, Harlow, Winnicott etc.) and these are revisited throughout the book in an informative and reflective way. Jennings is not afraid to disagree with or develop a well established theory which makes her approach brave, refreshing and, dare I say it, playful!
A theme which runs through the book is the relationship between nature and nurture which, pleasingly, is becoming thought of less as a dichotomy and more as a mutually influencing aspect of development. As Jennings puts it; 'Nature gives the brain its potential but it is the quality of the nurture (or neglect) that will determine the eventual growth of the brain and its capacities' (p29). And for the author, a vital aspect of nurture is play. NDP, she argues convincingly, begins from the moment of conception throughout a critical period of six months after birth. It seems strange at first to think of playfulness and attachment as starting at conception but if we consider, as the author urges us to do, the contrasting situations of a pregnancy borne out of rape and one which is the result of a playfully intimate encounter, we begin to see where Jennings is coming from. This is striking in its contrast to earlier theories of attachment and play, but supports my personal view and that of many psychotherapists, that what happens in the womb and during the first months of life has a crucial impact on the capacity for relationships, empathy, emotion and behaviour. The taking of a detailed early history in child therapy referrals, including details of the conception, pregnancy, labour and early developmental milestones, is therefore imperative in understanding the troubled child we later meet in the consulting room.
While many established theories posit the notion that neglect, and in particular maternal neglect, is irreversible in terms of its negative effect on attachment, Jennings' view is much more optimistic. She guides us through NDP techniques which can be used alongside conventional models of therapy for interventions with different aged children up to and including young adults, with a chapter devoted to 'looked after' children which I found particularly encouraging. Her emphasis on working with the family rather than the young person in isolation also made good therapeutic sense. All in all I found this an intelligent, thoughtful and hopeful book which I know will influence my clinical practice.