Stop F*cking
Nodding and other things 16 year olds say in therapy
Jeanine Connor
PCCS Books, 2022
***********************
Contents
Introduction
Chapter 1: Aiming for perfection
Chapter 2: Mud sticks
Chapter 3: Lessons in love
Chapter 4: In transition
Chapter 5: Wanking
Chapter 6: Maturation
Chapter 7: Mother and son
Chapter 8: Learning to live
Chapter 9: Bored and angry
Chapter 10: F*cking nodding
References
***********************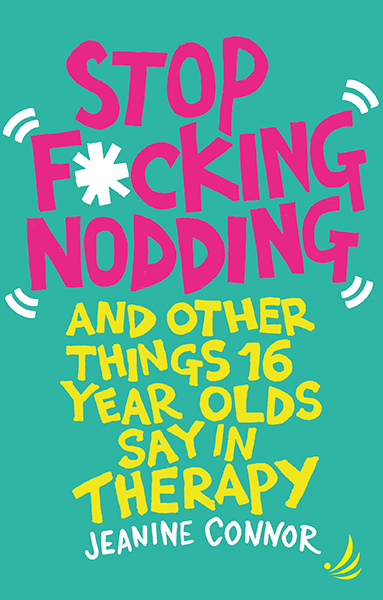 Description
This book is for anyone who knows, loves, is baffled by, or wants to help someone who is, has been, or is going to be 16.
Sixteen is where anything can happen and often does; the eye of the storm of adolescence, filled with demands, challenges, turbulence and passion. This book is written for psychotherapists, but also for parents, teachers and anyone who has an interest in how the teenage mind works. Jeanine Connor draws on her 25 years of experience as a psychotherapist specialising in children and young people to paint vivid vignettes of some of the 16-year-olds she has worked with. These nine stories capture and explore the key themes and challenges in this demanding and rewarding work: sex, gender, identity, body image, self-esteem, depression, loneliness, difference, loss and despair. But also the humour, quirkiness and mercurial charm of her young clients, brought to life through frank dialogue, deft description and quick-fire repartee.
And if any reader thinks they recognise themselves in any of the characters portrayed, then the book's work is done. Anonymised they may be, but these stories will illuminate your understanding of the lives of 16-year-olds today, and maybe your own 16-year-old self as well.
*********************
Reviews and endorsements
'…a gift to therapists, and indeed anyone who works with teenagers, or who parents them, or has one in their life.'
Graham Music, Consultant Psychotherapist, Tavistock Centre
*********************
'… engaging, honest and courageous… an essential read for those training to work therapeutically with young people but also for practitioners wanting to explore the meaning of authenticity, keeping it real and generally being kind to yourself in those moments of self-doubt. Prepare to laugh out loud and simultaneously have your heart in your mouth at the same.'
Jo Holmes, Children, Young People and Families Lead, BACP
*********************
'An absolute gem of a book. What I love most about Connor's writing is the simplicity with which she explains even complex theory; after 25 years doing this work, she knows and models her craft effortlessly. At times messy, touching and funny, this refreshingly honest exploration of a therapist's process, the workings of the teen mind and the power of the therapeutic relationship is certainly one to read.'
Caz Binstead, Integrative Psychotherapist
**********************
I've always hated the way society dismisses young people, with phrases such as 'it's just a phase', 'drama queen' and typical teenager', so what struck me most about this author's approach to working with 16-year-olds was the openness, interest, respect, warmth and empathy she rightly brings to each and every one.
Sceptical of the burgeoning levels of diagnoses and prescription drugs in adolescent mental health, Connor demonstrates that with patience, compassion and curiosity, a skilled and empathic therapist can help a young person navigate some of the toughest times in their lives. She makes it clear how her psychodynamic theoretical base informs her work, with regular explanations of the theory that underpins her practice.
Through a series of vignettes, Connor demonstrates the issues teenagers struggle with, how therapy may help and how to negotiate the ethical minefield around parental involvement. Offering important insights from both theory and practice, this book contains a breadth and depth of knowledge that any therapist can learn from.
While there are moments where Connor is flummoxed by her young charges or doesn't get it quite right, I did wonder if it might have been reassuring to those with less experience to see just a little more untidiness and confusion, perhaps a case study where the interpretation, the theorising – indeed the therapy – did not work out.
Ultimately, though, this book got me thinking about my clients and our relationships and I noticed new ideas and insights emerging because of it. Connor is thoughtful, optimistic, insightful and compassionate – exactly how I'd want a therapist to be if it was my 16-year-old sitting in front of them.
Nick Campion, Integrative Psychotherapist
**********************
Written in a real, human, easy to understand way but with proper psychological theory woven through the stories of teens in therapy. A beautiful behind the scenes view of what happens in the therapy room from an experienced therapist.
Amazon review
*********************
This book is a real, down-to-earth account if the author's work with a variety of teens. She recounts their stories with compassion and humanity. Worth a read if you work in the field, or with young people in any context
Amazon review
*********************
I found Jeanine Connor's honest approach to challenging subjects very accessible as a reader who has not studied psychotherapy. As an educator working with young people the topics and themes were very relevant and realistic in the current climate.
Amazon review
*********************
This is a touching, honest, compassionate, and informative book. For anyone who works with teens, this is a must read. It offers a valuable insight into the process of therapy and a 'window in' to the adolescent's psyche. It will help adults make sense of adolescent behaviours and communication that can be worrying, challenging or confusing. This would be a great resource for parents too, especially those whose children are engaged in counselling/therapy or thinking about it.
Amazon review
*********************
'...such a useful and readable book. Lots of moments of realisation about young people I am working with at the moment. I would say a must read for any therapist working with young people, after or during training.'
Amazon review
*********************



Reflective Practice in
Child and Adolescent
Psychotherapy
Jeanine Connor
Routledge, 2020
Contents


Psychotherapy with children, young people and families

Fantasy and lies

Labelling children and young people

Sex

Identity

Play

Endings and loss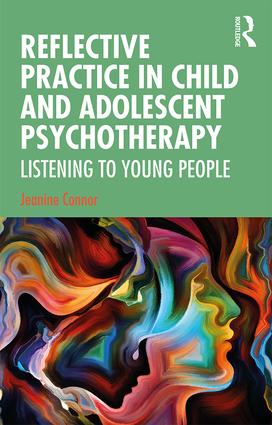 Description
Therapy referrals for a child or young person can be motivated for a number of reasons. The parents, carers or professionals responsible for their wellbeing might describe a sudden change in presentation, risk taking behaviour, such as self-harm or experimentation with drugs, alcohol or sex, or they might label the young person as over reacting, under reacting or attention seeking. Such behaviour prompts concern for their safety and confusion about why the child or young person is presenting the way they are. This book offers a thoughtful approach to making sense of such behaviour and encourages adults to 'reflect on' rather than 'react to' young peoples' outward presentations.
Based on the author's work with children, young people and families over two decades, this book shares reflections from the therapy room and illustrates how the therapist can try to make sense of mood, behaviour and presentations that previously made no sense. The content relies heavily on clinical experience as well as drawing on classical and contemporary psychotherapeutic literature. 
So often adults find themselves reacting to observable behaviour in a judgmental or punitive way, rather than pausing to consider what the behaviour might be communicating. The author aims to model a thoughtful reflective approach to making sense of what might be going on for children and young people and this book will be of great interest to child and adolescent psychotherapists, related professionals and those with an interest in young persons' mental health. 
Reviews and endorsements
This honest, bold and frank book consists of seven chapters, each focused on a theme relative to working therapeutically with young people. The first chapter outlines the nuts and bolts of child psychotherapy, shining a light on the client-therapist relationship, emphasising process over content, highlighting unconscious and non-verbal communication, transference, boundaries, and loving our clients. The following chapters discuss, in turn; the significance of children's fantasies and lies, the nature of diagnosis and issues of labelling, the sexual lives of children and young people, identity development, the importance of play, and finally, the beautiful chapter on endings, which will leave you wanting more.
Classical and contemporary psychotherapeutic literature underpin clinical reflections, and case studies bring themes to life. Written in a style that encompasses informality, eloquence, intimacy and elegance, the author opens the door to their therapy room and invites us in with such generosity. We get to witness a piece of the process and join the author in making sense of what's going on for the child or young person. Every page illuminates the sensitivity, proficiency and reflexivity needed to work with this client group, yet at the same time the author offers an honesty that reassures us all that to be unsure, uncertain, and simply 'good enough' as a therapist is OK.
I would have liked a chapter illustrating how the author approaches reflective work with professional 'others', such as school staff, carers and social workers. This book is a valuable resource for therapists, social workers, teachers, foster carers, health professionals, parents and anyone who has a desire to make sense of young people's behaviours, moods and communications.
Michelle Higgins MBACP (Accred) is a counsellor in further education and child and adolescent psychotherapist in private practice
-------------------------------------------------------------------------------------------------------------
'This powerful, concentrated book captures the essence of psychodynamic practice with children, young people and their families today. These kids bring unimaginable lives of indifference, betrayal, neglect and abuse, or sometimes just incomprehension, from those charged with their care. Jeanine Connor decries lazy labelling and eschews the fairy-tale ending; rather, she leaves threads so the reader – whether student, experienced practitioner or, indeed, parent – can explore, quarrel with and unravel her insightful interpretations and interventions. Alongside are helpful references to beacon texts from the literature. These stories celebrate the role of the therapist – listening, absorbing, containing, understanding and ultimately, we hope, freeing.'
Catherine Jackson, Editor, BACP Therapy Today
-------------------------------------------------------------------------------------------------------------
'For any aspiring therapist working with children and young people, this book demonstrates how to be both firm and kind, how to combine clear theoretical thinking with human compassion and a flexibility of approach. This is an accessible, unpretentious book, distilling many years of wise practice with young clients. I recommend it to all therapists learning how best to work with the turbulence of adolescence.'
Nick Luxmoore, Psychotherapist, Supervisor, Trainer and Author
-------------------------------------------------------------------------------------------------------------